A few years ago, a friend asked me if I would do PR for one of the olive oil factories he managed. He explained they needed an American to write copy for their new international website and negotiate an importation deal with the FDA and it had to be an American because an American news program had done an exposé on the so-called olive oil mafia scam and chose to feature this particular artisanal olive oil maker as a purveyor of the real deal.
"Now the Americans have lost their minds," said my friend. "They think this is the One True Olive Oil. My boss has never exported her oil before and she literally can't keep up with the orders. We've never seen anything like this."
"Okay," I said.
And we shrugged our shoulders at each other.
The olive oil company I helped export oil to the United States is a fantastic olive oil company. It's four generations old, and its current head is a woman, the great-granddaughter of the man who started it. Thanks in part to this American news story, she's now turned it into an international operation, selling olive-oil based jams, condiments, sauces, and even soap. Her oil is exceptional and her storefront is a wonderland of tempting bottles and jars. Would you not die to offer a plate of bruschetta topped with her artichoke pate at your dinner party, or be served a warm cornetto spread thickly with her favetta strawberry jam? My months spent negotiating the FDA deal with her were delightful; typing away while surrounded by the heavenly perfume of organic Itrana olives.
My friend and I didn't shrug because her olive oil isn't worthy. It is.
We shrugged because here, the stuff literally grows on trees.
*
Keeping olive groves is a family tradition in small Italian towns, wherever the weather is warm enough to favor olive cultivation. Here in Terracina, a good number of my friends' families have olive groves and every other year, when their olive trees are in bloom, they head up into the hills to begin their harvest. None of my friends' families sell – they have dozens of olive trees, not hundreds – and the oil they make is for personal use, or, when they've got too much, to give to friends and family. Sometimes I am one of those friends; I literally cannot finish my organic, pure olive oil fast enough before someone else plops another bottle in my lap. I must be doing something right! I have not bought a bottle of olive oil in years.
*
Forget pandemics! The olive harvest is a good enough excuse in this part of Italy to get you out of doing stuff. "Can't: we're doing the harvest, soz." Okay, you're off the hook. Other acceptable excuses: the oranges, lemons and almonds. My friend once waved her hands over the table to show us her wine-red gel manicure: Look at this. I even did the olives today and it's still perfect. It gleamed under the pub lights.
For a long time, I was very sad because no one ever invited me to come do the olives. I mean, here I was – little but sturdy and with loads of pep, and free as a bird on weekends. And yet, no invites – just bottles of fresh olive oil dropped off at my door. But eventually things changed and now my presence is kindly requested every couple of years down in Calabria to harvest 25 trees bursting with Carolea olives. We lay plastic nets down under each tree, and use small plastic rakes attached to different lengths of bamboo rods – short, medium, and super long to get down the olives in the highest branches. The family also has an electric harvester that they plug into a generator they've hauled in from the house on a wheelbarrow; its head has lots of long prongs on it, and it spins lightning fast.
It's long, thirsty work – your neck aches from continually looking up, and the sun gets in your eyes. Last harvest, M climbed up into a tree and got blinded by the sun and fell down onto the ground. She spent the whole day in the ER (she was fine). Maybe my other friends thought I couldn't handle this work but I can, and I like it. It's so repetitive that it's therapeutic; hunting for those little green and purple gems, then shaking down them down like that tree owes me money. The olives rain down and plop onto the mat. When we're done, we pull up the nets by their corners, then set about to picking the branches out of our haul, and then transfer the olives into the waiting white sacks.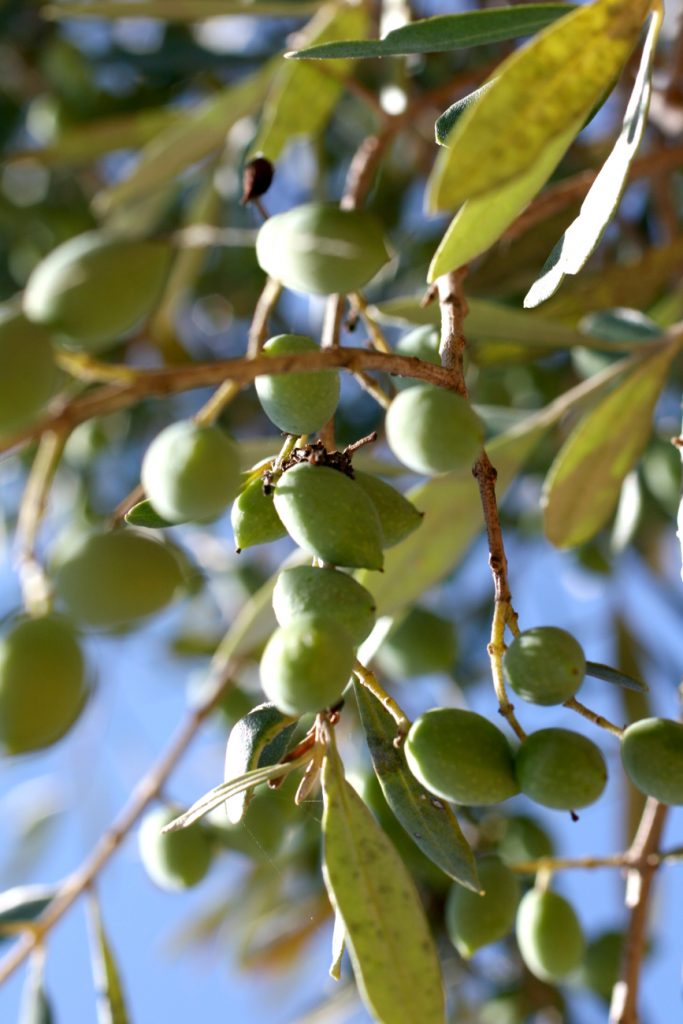 Families take their olives to the frantoio, or olive mill – like the one I worked for. The mills will process laypeople's olives for a small fee. D always stays with his olives as long as possible to make sure that the mill doesn't grift some of his olives while he's not looking, because that's a thing. No issues these past couple of harvests. When it comes out from the press, it's a fascinating shade of neon golden green.
At the mill I worked for, she held a lot of tastings and sometimes my friend and I were invited. She'd bring us little paper cups of different blends of olive oil – the dominant olive species in my region is the Itrana – as well as little plates of affettati or cheeses. She always told us to suck the oil in through our teeth while inhaling, like Hannibal Lecter. She said it would help us feel the notes better, and amazingly, it did. When you smell proper, artisanal olive oil, it's like nothing else – this sharp hit of spicy, floral, green you can practically taste. Maybe one day they'll bottle it – to wear, not to eat. I'd buy it.
Use extra virgin olive oil "cold" – only for dressing your foods, not for cooking or – dear god – frying, otherwise it's a giant waste of that bold peppery flavor (sautee with a blended oil instead; fry with peanut or sunflower). Don't just make salad dressing; drip it over your soups – pasta e fagioli, minestrone, a hearty vellutata. Dribble it over a plate of veg, use a few drops to heighten the flavor of a fresh fish crudo.
It's good for the heart, the skin, the hair, the eyes, the soul, and nowadays, a good number of family-run artisanal oil companies do import their oil straight from Italy, lots of different brands from different regions, not just the place I used to work for. You'll pay an arm, a leg, a kidney, and your dominant thumb (we pay an eyelash, or in my case, nothing at all). But it's the real stuff.
New extra virgin olive oil drizzled over a piece of warm toasted bread is one of the most wonderful things I've ever eaten. Proof that no matter what, things will somehow be okay.