In Italian, we call "farm to table" chilometro zero; food grown zero kilometers away. Just as it has in other industrialized countries, that distance from farm to table has grown exponentially here in Italy and "farm to table" has become a trendy dining "experience". But I've found that in my area of Italy – rural, conservative – it's common to find families that still cultivate their own produce, olive oil, and animal products. And as such, Italian farm to table products have always tended to drop into my lap, thanks to the good-hearted souls who like me and grow more than they need. I was a city girl when I first came here – protein was square and came on a styrofoam tray, vegetables came from plastic crates in a market. Suddenly, I was foraging for wild asparagus on my friends' land and plucking olives from their trees.
Lemons and oranges in bushels; apricot jam grown and canned by my friend's grandmother. I haven't bought olive oil in years because bottles of home-brewed, extra virgin green gold keep showing up on my doorstep. I learned to chart the seasons of the region's produce and make my meals based on whatever I was gifted; a fresh bushel of prunes meant I'd make a crostata for my breakfast, plump red tomatoes in the summer meant I'd have spaghetti al pomodoro. I'm now one of those people who sees an item on a menu and mutters things like: But you know they'll be frozen because it's not the season. Italian farm to table was perhaps one of the first things that endeared me to life in small town Italy. Maybe that's why I've stayed here so long! Who cares about systemic nepotism when people let you hold warm, chicken-fresh eggs?
Then I met the Calabrese and things got CRAZY. My parents have an orchard, a chicken coop, and an olive grove, he said. They belonged to my grandparents. My folks only buy flour, salt, pork, fish, and sugar – everything else they eat comes from the land they live on. Once a month, they send me packages of fruit and veg and things my mom makes herself. When we were just friends, he would bring me blood oranges from those monthly packages; one year for my birthday, there was once a shopping bag full of his mother's homegrown, homemade jam.
Now that we're together, those giant shipments come directly to me*.
*Us. I meant "us."
I dropped to my knees the first time I saw one of those shipments; he had vastly undersold the sheer bounty they send him (produce privilege may be a thing). It's not just fruit and veg; his mother sends homemade pizza, stewed beans with peppers, involtini stuffed with peas and provolone… even her feather-light lasagne studded with tiny meatballs. It's common – even stereotypical – for families in the South to send care packages of food to their children who live and work further north, but I wonder how many families have a system as sophisticated as this: 1-day freight with SDA; all the home-cooked foods vacuum-sealed. The chicken-fresh eggs come packed in plastic egg-carrying cases which are then bubble wrapped, and all the Italian farm to table goods are nested so thoughtfully it's almost a shame to unbox them. His is a family of engineers and inventors; you'd expect nothing less. Only foul play can hinder this glorious system; a couple of summers ago, there was a courier strike and the package took four days to arrive. We're still not over the heartbreaking sight of his mother's gnocchi and pizza covered in blue mold.
This week, we got our first shipment of the year: THREE boxes. It was meant to be the Christmas package, but we told them to wait until after the holiday red zone restrictions to send it. I guess they went a little stir crazy in the meantime.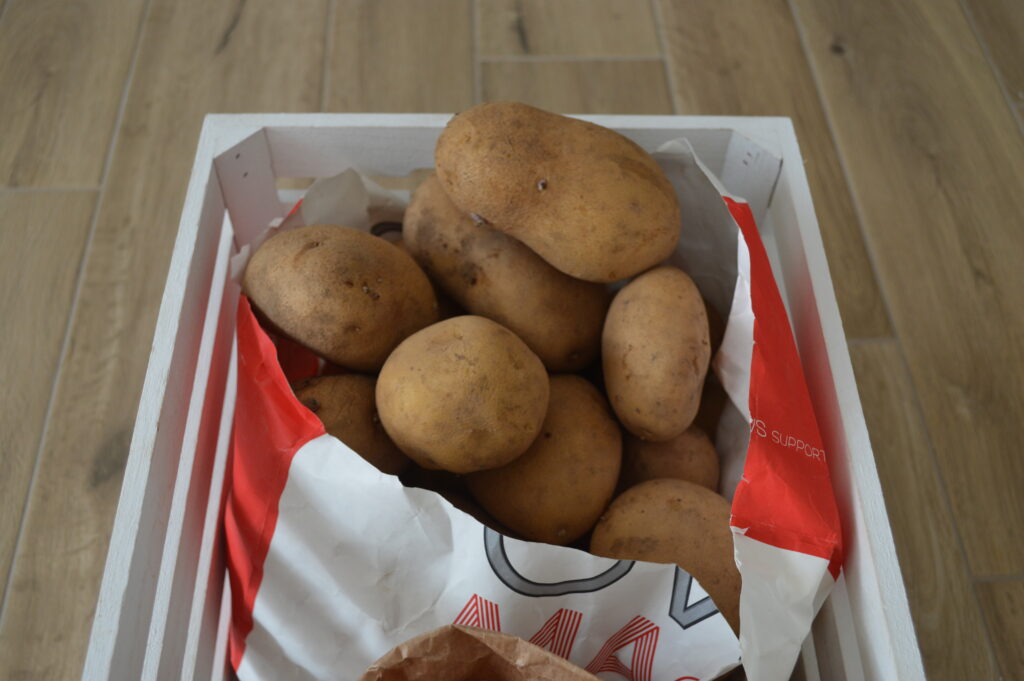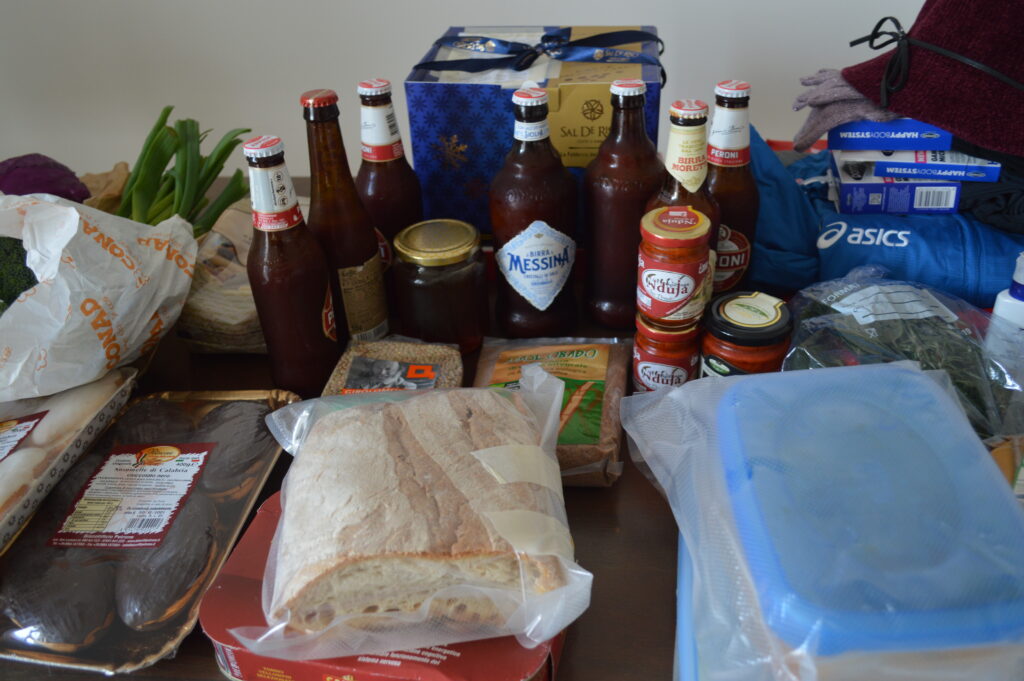 We don't cook for at least two days when we get the packages from Calabria, and we don't have to buy produce for weeks. When the packages arrive, we generally inspect the produce and see if anything has gone off during transit – that moldy shipment back in 2018 scarred us. Then we gauge how much we can possibly eat; if there's anything we can donate to someone who needs it more right now. Then we scarf down the home-cooked meals that must be eaten immediately. And then we plan our future meals based on the seasonal items his parents grow with such love and skill.
It's like getting a MasterChef Mystery Box. Can we do justice to the beautiful things they grow and so generously give us – the result of decades of research and experience?
This is what we did with this month's giant squash: squash risotto with pancetta served in parmesan shells. We've had ruby red blood orange juice each morning; fresh lettuce and fennel salads each night. I'll certainly do some fennel au gratin later this week. The purple cauliflower are stewing on the stove as I type; we're thinking cauliflower fritters. And thinking, too, about how fortunate we are to benefit from the self-reliance of others, especially at times like these.
Elbow-bump a farmer. They deserve it.