On New Year's Eve 2019, we ate Italian New Year's Eve dinner at home and fell asleep before midnight. It was an accident – we'd planned to go ring in the new year in the piazza as usual – and we felt very embarrassed about it. Then we laughed; silly us! We'd be sure to get our act together in time for New Year's 2020.
You know how this story ends: on New Year's 2020, we were in exactly the same spot as we were on New Year's 2019; first, shoveling in Italian New Year's Eve dinner at our kitchen table, and then peacing out just five minutes after midnight. But there was no shame in participating in a global zeitgeist; if I'm honest, there was even relief.
And, of course, there were big plates of cotechino e lenticchie.
Sausage and lentils, already one of the greatest flavor pairings known to humankind, takes on *magical powers* when eaten on New Year's Eve in Italy. Okay, maybe not literally magical, but ever since the middle ages, this dish has been thought to bring money and good luck in the coming year. Each little lentil = a coin, so be sure to eat all of the delicious little devils on your plate (it's easy, they're little). The pork component of this dish – either cotechino sausage or zampone (pig's foot) – adds an intense earthiness to the lentils, so you can't help but eat every last one.
We decided to do a cotechino in crosta – a puff-pastry covered riff on the classic. Basically, a giant pig in a blanket, or cotechino wellington, if you like. I also curried my lentils, because I can't not curry lentils. We used Josh Weissman's recipe for the puff pastry, which was a slam dunk, and our 4 euro Modena-style cotechino from Conad was absolutely delicious.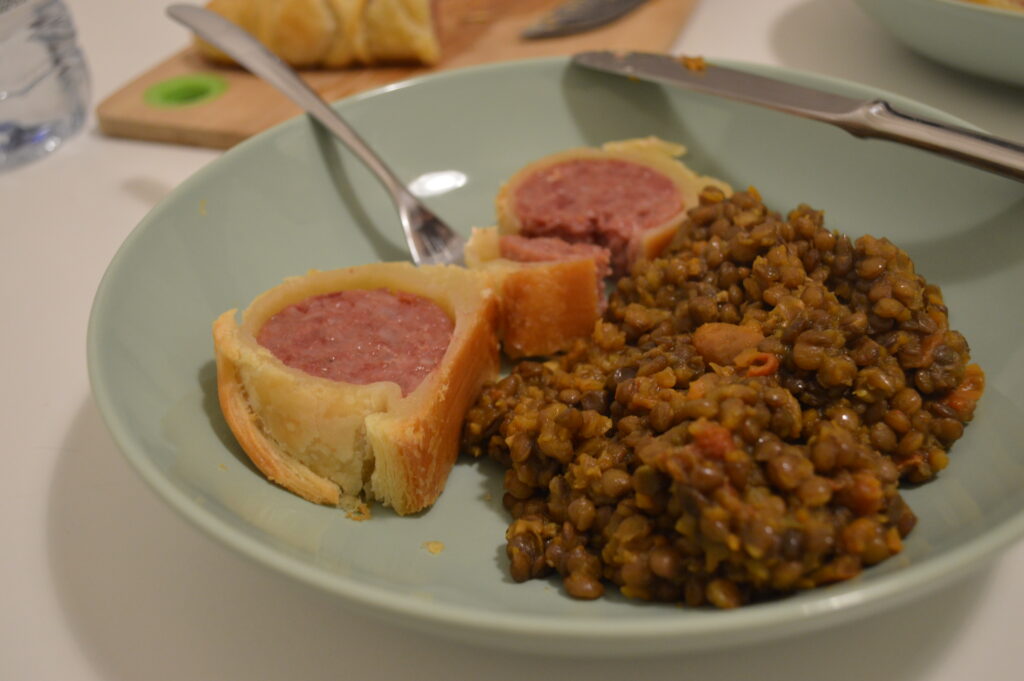 Traditional, but not "too" traditional in a year that has turned even the smallest human experience on its head.
Outside, there were the usual botti di capodanno – heard from indoors. There were take-away New Year's Eve cenoni advertised on Facebook by the restaurants we'd have gone to in person, dressed to kill; the best wishes over Whatsapp from friends and family we'd have hugged at midnight in the piazza if things were as they should be.
I scroll through my photos from the last year and linger on the photos from before. Every now and then, I watch something on Netflix and think, But they're all standing too close. We walk through town and say, "Remember when we used to go out to dinner every week? Remember when I used to drink prosecco and write for hours at the bar?" After, the simple act of walking through the place I have lived for 10 years now feels like a trip down memory lane, as though the things I did mere months ago are part of a different era.
After is always a surprise. The only thing that hasn't changed; wherever we are, whoever we're with, in Italy, at midnight on New Year's Eve, we still eat a giant, delicious plate of luck.